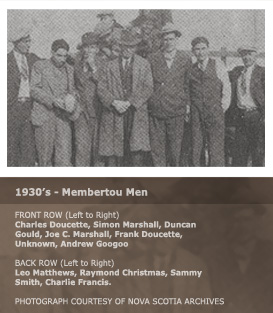 Kwe - Welcome
to Membertou's Nestuita'sin Web Project.
Membertou is a Mi'kmaq community located in Unamaki, Cape Breton Island, N.S. and like many other Mi'kmaq communities, it contains a unique and rich history.
This web-site is a presentation of that unique history, and through the photographs, videos and audio recordings, it provides an opportunity for the viewer to learn more about Membertou, its' people and its' past. Personal glimpses are provided into the lives of the people who developed Membertou and to those individuals who played pivotal roles in bringing the community forward through both positive and difficult periods in their history.
It is Membertou's vision that through this web-site, all people will be provided with a deeper, richer and more positive understanding of the culture and history that makes Membertou the thriving Mi'kmaq commuity that it is today.