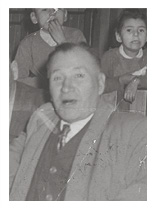 These audio recordings were recorded in 1961 at the Church in Membertou. The recordings are of Chief Ben E. Christmas who is reciting various songs and commentary regarding Mi'kmaq social life.
Chief Ben E. Christmas was the son of Chief Joe Christmas and Madeline Christmas.
He was a well respected Mi'kmaq leader and was first elected Chief at the age of 23, by his community, when they resided at the Old King's Road Reserve.
He was also the Chief of Membertou, when the community was moved there in 1926 from the Old King's Road Reserve. He remained the Chief until his death in 1966 at the age of 69.
Chief Christmas was an advocate for Mi'kmaq Culture and Rights and was relied upon by many for his advice and leadership. Chief Ben was instrumental in establishing the Church in Membertou and was also a strong opponent against the Centralization scheme of the 1930's.
Chief Ben E. Christmas died in Amherst, Nova Scotia on March 28, 1966 while attending a meeting of the Maritime Regional Advisory Council.
These audio recordings are important to the Culture and History of Membertou and to all Mi'kmaq as they demonstrate the significant amount of knowledge and Mi'kmaq culture which Chief Christmas possessed.
These audio recordings provide us with glimpses of Mi'kmaq perspective on marriage, feasts, hunting and social values; all of which are recorded from an earlier time period and a generation of Mi'kmaq whose Mi'kmaq cultural values were still strongly intact.