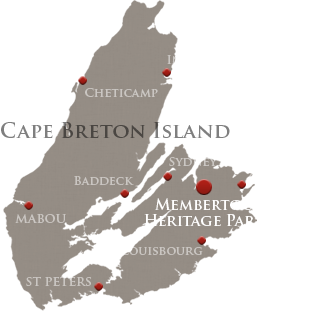 The Membertou Heritage Park consists of a five-acre site that offers a living history of the people of Membertou. A large indoor exhibit and program area offers the visitor full immersion to an ancient culture. Through the Blossoms and Berries Donation Campaign the Membertou Heritage Park will be expanding their landscape in the future.
Take a little piece of authentic Canadian tradition home with you as you browse through Petroglyphs Gift Shop. Petroglyph specializes in Aboriginal arts and crafts and carries a wide arrangement of traditional and contemporary Mi'kmaq arts and crafts made locally in Atlantic Canada.
The Elders room can accommodate up to 50 people for public or private events. For rentals click the Facility Rental icon in the left sidebar menu.
---
Hours of Operation
In Season (June – October):
Monday to Saturday 9:00 am to 4:30 pm 
Sunday and Evenings by appointment. 
Contact Gift shop for evening classes schedule.
 
Off Season (November – May):

Monday – Friday 9 am – 4:30 pm
Admission
General Admission: $8.00
Children (under 12): $5.00
Senior: $5.00
Family rate: $25.00 (2 adults & 4 children)
Guided Tours: $5.00 added to admission fee
School Group: $3.00 per student
Facility Rental (Conference room): Please inquire
Special Programming: Please inquire
---
Accommodations
Hampton Inn by Hilton Membertou — Hampton Inn by Hilton Membertou is seconds away from the Membertou Heritage Park. It is conveniently attached via pedway to the Membertou Trade & Convention Centre, which boasts the tasty food of Kiju's Restaurant.
http://hamptoninn3.hilton.com/en/hotels/nova-scotia/hampton-inn-by-hilton-sydney-YQYNSHX/index.html
---
Also in Membertou...
Membertou Trade and Convention Centre — The Membertou Trade and Convention Centre which opened in 2005, is a 47,000 square foot meeting and convention facility. The Centre incorporates sophisticated conference and meeting space including a 10,000 square foot Great Hall, individual conference/break-out rooms, an Executive Boardroom, Multi-Purpose Room, and full catering and banquet services. www.membertoutcc.com
Kiju's Restaurant — Kiju's restaurant was named using the Mi'kmaq word for mother. Mothers have great influence on traditional recipes. Kiju's has embraced this tradition by offering menu items that are influenced by cultures and traditions from around the world such as Cape Breton, Canadian, Italian, American, French and many more. www.kijus.com
Membertou Market — The Membertou Market offers a variety of products including grocery items, fresh fruit and vegetables, gas, diesel and propane, lottery and tobacco items, and also houses Kiju's Chicken and Deli: a fast food take out service offering quality chicken and fresh deli sandwiches. www.membertoucorporate.com/companies-market.asp
Membertou Entertainment Centre — The MEC is a 33,000 square foot building that features: a 10,000 square foot open concept main hall with two glass sealed and filtered smoking areas. Four private seating boxes, Bingo games 5 nights per week with electronic bingo systems, two video lottery terminal Casinos (non-smoking and filtered smoking) and full service concessions. www.mecbingo.com/default.asp
---